New Season Begins August 9
Call now for an individual appointment for fall Registration and dancewear fittings
NEW SEASON BEGINS 8/9
Call now for an individual appointment for fall Registration and dancewear fittings.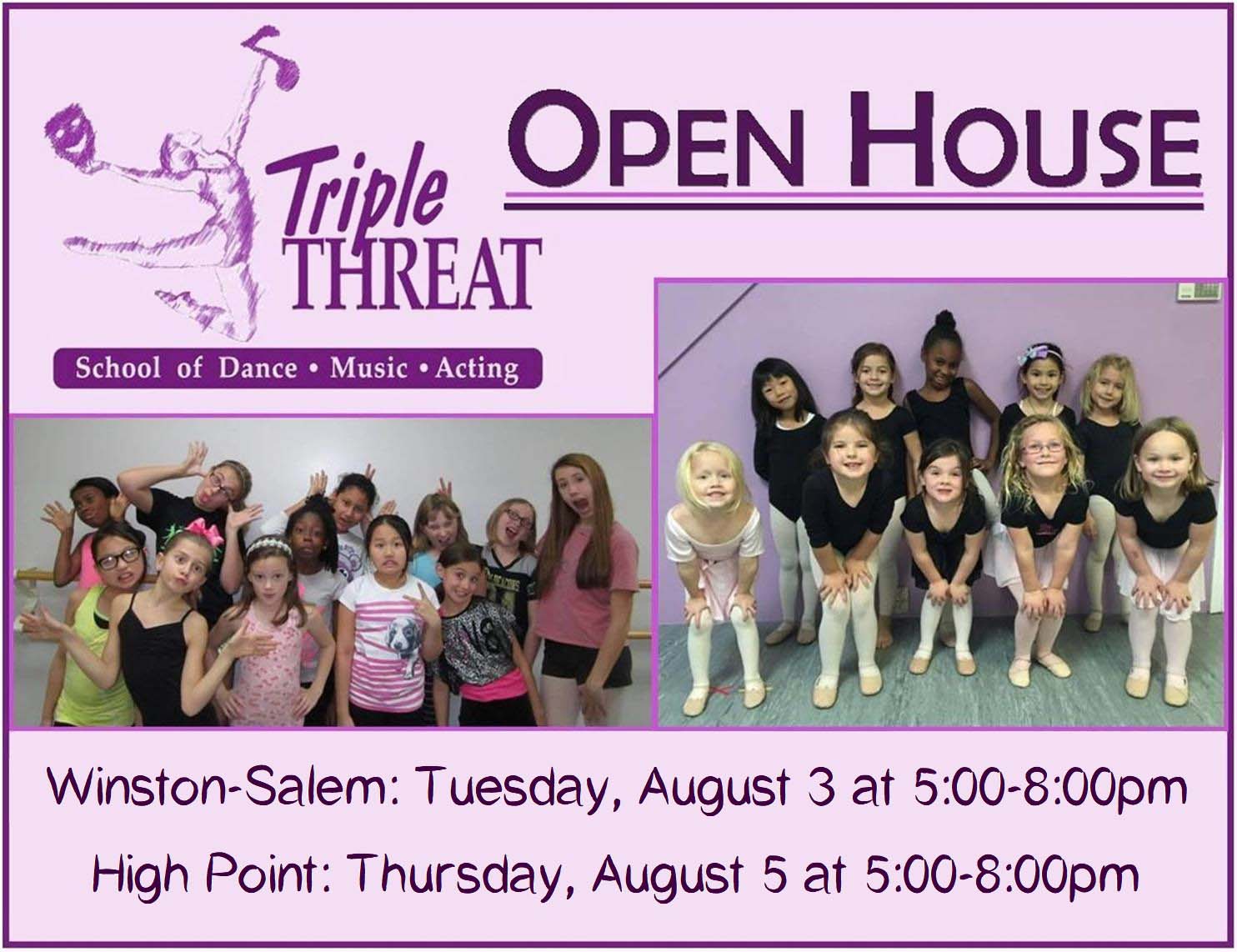 Click for more info about open house

WE'RE OPEN!
We're happy to announce that we are open for business! Please feel free to visit our COVID update page to stay updated with our procedures to keep everyone safe while coming back to our studio.
If you're looking for Dance, Music, Acting, or Tumble classes in Winston-Salem, High Point, or the surrounding area, you're in the right place!
At Triple Threat School of Dance, Music, and Acting we are able to place your child in a class with students their age and ability, from the beginning student through the advanced student, ages 2 – adults. Many studios offer classes for all ages, but are unable to offer classes for students of all ages and levels.
Triple Threat stands out above other studios because we are able to offer Dance Lessons, Music Lessons, and Acting all in one location. Your child can choose to focus on one discipline or all three. We have the ability to guide your child in whatever direction they want to go. If they want to be a Triple Threat Performer who is equally talented in dance, music, or acting, the option is there.
Dance Classes: Ballet, Tap, Jazz, Hip Hop, Pointe, Contemporary, Musical Theatre, Creative Movement, Dancing Tots and private lessons
Music Lessons: Piano, Voice, Guitar, Drums, Violin, Viola, Flute, Harp
Acting Classes: Drama and Musical Theatre
Tumble Classes: Preschool to Advanced Tumbler
Preschool: Ages 2-5

Current students may register online or come into the studio to register. Online registration is available now in the Parent Portal! Register Here
read more